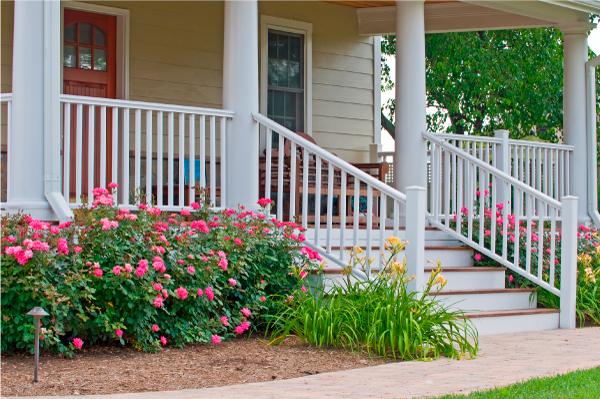 Unlike the northern parts of the US, in Texas we are unlikely to see any frost after the middle of March. Even so, be careful with plants that are more sensitive and plant a bit later. With the warmer air and soil temperatures we start to see blossoms, new foliage on trees and shrubs and our lawns start turning green. For those of us in the Austin area, early Spring is the time to start planning and getting our gardens in shape before the hot Texas summer makes it impossible to work.

It is always best to maintain your lawn and flower beds through the year making your spring tasks less expensive and time consuming.
Where to start?
Before doing anything else, have your lawnmower serviced. It will need a new filter, oil change and the blades will need sharpening.

Trim trees and shrubs to encourage new growth.

Rake your lawn of all leaves to allow the light of the sun to help it grow.

If there are bare patches in your lawn, loosen the soil and apply lawn seed

or plugs

.

Mulch your flower beds and trees to help retain moisture and prevent weed growth.

If you don't like to use herbicides for weed growth, then you will have to remove of young weeds on a regular basis.

Fertilize now that it is still cool. Once the temperature gets too high fertilizer burns plants and lawns.

Watch out for pests and take measures before they start munching away at your plants.

You can plant most of your summer vegetables by early April and most flowers, except for hot weather annuals which should be planted in May.

Check your watering system for leaks and adjust the watering days. It is too soon to water daily.

Rule of thumb water 3 times a week for over 100, 2 times a week for 90-100,1 time a week for 80-90 degrees.

As usual, check with your city to see what their watering guidelines are.
My REALTOR® services go beyond the closing table! Let's have a chat soon if you are thinking of a Spring home sale or purchase in the greater Austin area.